We review our spending and income from last month to review and see where we can learn and improve. Of course, the goal is to maximize income and minimize expenses. The gap between income and expenses is vital to personal finance.
In November 2022, we had total Income – $14,455 and spent/saved – $11,202
November Gap – $3252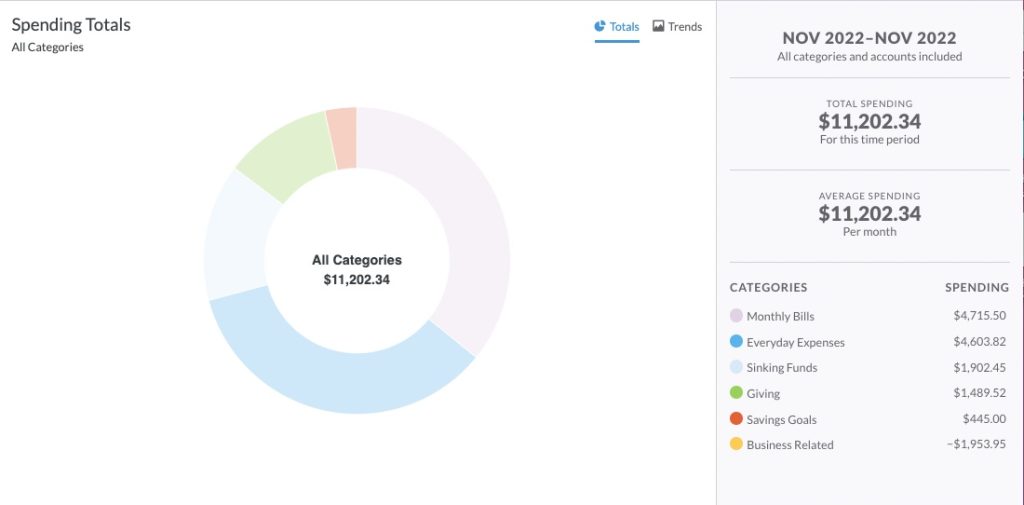 Income is up! As noted in

October

, one of us has hit the social security maximum, so our take-home pay has increased substantially. I have no problem with paying taxes, and I disagree with the "taxation is theft" mantra, but it's insane that approximately 12.6% of all payroll (up to about $140k) is insufficient to fund social security in perpetuity. I wrote about this more

here

.

We use YNAB to track our spending, which makes preparing this report much easier.
Expenses ok – some up, others down –
Grocery/Household: – $1017 – After a blowout in

October

($1709), we got our grocery/household spending under control at only $1017. Unfortunately, however depending on your perspective, this may be more luck than discipline – with the way the month falls and not cooking a major Thanksgiving meal.

Restaurants – $625 – We don't have to look far for undisciplined spending, as we spent $625 on restaurants in November. Some of this is related to birthday dinners out or unreimbursable professional meetings, but lots of it is simply we're hungry and failed to plan ahead of time. We also like to eat out as a family after church on Sunday, it's a great family time but the $50+ event adds up.

Gas – $378 – unremarkable given that we drove approximately 4 hours to see family for Thanksgiving. According to YNAB, our average gas spending this year is $350/month.

Clothing – $1231. Wow! – This was a blowout month for clothing purchases. Our average is only $335/month over the last year, so this is certainly an outlier. This includes a very expensive ($300+ jacket), professional jeans ($150), several pairs of work shirts ($200), and casual shoes ($32 each) that were very cheap independently. However, because they were cheap we bought several and sort of prepaid our clothing expenses by purchasing several extra shirts and shoes. This also includes some birthday gifts for kids that are actually clothing. Notably, we spent $770 on clothing in October, which is also way over average. Seems like we should just say no to clothing spending for the next few months.

Medical – Refund of $770. Apparently, we overpaid for a procedure several months ago and received an unsolicited check from a medical provider for several hundo. Well, thank you! If only medical billing and costs were a bit easier to understand.

Miscellaneous – $685. This is where we need to be much more disciplined. We spent about $100 on a little birthday gift for our oldest, almost $200 for a donation to a friend's efforts to improve our community, family pictures ($100), $135 for some sort of home furnishing (I have no idea what), $57 on candlesticks (really?), and probably another $100 on random Amazon items like computer/TV adapters and birthday gifts for our kids' friends.

Entertainment – $770 – Seems like a lot, but it makes sense when you break it down. We spent $360 on tickets and concessions to see our favorite football team play a big home game (great date night, and we gave two tickets to a couple), $200 on Topgolf outing with family, $75 on a dance event for only 2 of us, $21 on Nintendo crap (what a waste), and approximately $65 on annual subscriptions to media that we enjoy. I also bought a book that I've not yet read for $21.

Cash – we only got $40 cash from an ATM in November – not bad at all.

Auto Maintenance – We had the oil changed and wipers replaced on one of our vehicles for about $115. Not too bad.

Kids Activities – $515 – what the hell do our kids do? Well, we had a birthday party art school, a monthly subscription for baseball, a basketball camp, and a monthly dance subscription. Insane how it adds up. Hopefully, we're done with birthday crap for a while.

Fixed Expenses: We keep our fixed expenses low because we don't have the discipline to control spending on food, clothes, and fun activities.

Mortgage – $1627 without taxes and insurance. Steady and consistent. School was up to $2140 from the usual $1815 because we added about $320 to our kids' lunch accounts. Utilities are unremarkable and fairly consistent with October, though our electricity bill seems to be going up consistently.

Big Ticket items: We spent $320 on a new furniture item that we (my wife) have wanted for some time. Fortunately, we were able to take advantage of Amazon's warehouse deal (we cannot tell if the furniture is not brand new) and saved about $200 over the new price.

We started our Christmas shopping and spent about $1200 in November. Man, my kids have it so good.

We spent about $375 on a hotel stay for a short trip, but I was able to take advantage of a credit card bonus cash back of 15%, reducing the spend to only $317 for two nights. Not bad!

We're continuing to receive a small monthly deposit of oil royalties from a small inheritance. I use the money in this account to offset cash that my kids receive and want to deposit in their account. This is probably why we only had $40 in ATM withdrawals – I use the cash my kids receive for birthdays, etc., and credit their account via a transfer from this online account.

We continue to earn a health rental check each month with very little issue. We love our tenants, which makes the under-market rent sting a bit less. We had $155 in rental expenses in November for an annual pest service.

Giving – $1500 – We continue to consistently give to our church and other charities. It aint always easy, but it gives us such life! Proverbs 11:42.

Savings –

College $225 – we deposit $225 into our kids' 529 account on the first of each month. They each have a substantial balance in excess of $10k. We don't even miss this money each month.

Cash Investing Account – $220. In an effort to duplicate the success of our college accounts, we're invested monthly into a cash investment account. Unfortunately, the market has not done well and we're down a bit here, but we'll stick it out and come out better in the end.

Final thoughts –

Nice progress this month, but our gap is still a bit unsustainable. We need a gap like this month in the months that our income is not like this month. We are going to have to fund our Roth IRAs in January for 2023 ($13k), which will kill lots of our momentum. We need to work to grow our income and minimize our expenses – a few "no's" would probably go a long way.